EYFS and Primary Sensory Curriculum
Sensory Curriculum
The Sensory Curriculum is taught in 2 sensory classes in Key Stages 1 & 2, Robins and Lavender. Children follow a thematic approach with adapted topics based on the KS1/2 National Curriculum.
The curriculum is progressive, offers a basket of specilist stratgeies and is responsive to individual interest and need. Implementation strategies include; TacPac, Intensive Interaction, Sensology and aspects of Attention Autism. Each class has a topic per half term and there are 'Curriculum Maps' for each core area as well as RSE, to ensure a broad, exciting and balanced curriculum.
Students medical and physical needs are supported at all times through the use of specialist equipment, physiotherapy plans and support from therapists and medical professionals such as the school nursing team.
Please find the curriculum maps and curriculum overview below:
My IndependenceMy CommunicationMy Thinking and CognitonMy Physical and Sensory skillsMy Social and Emotional developmentSensory EYFS and Primary Long Term PlanSensory KS1 and KS2 PSHE and RSE Long Term Plan
Example weekly timetable for Robins Class: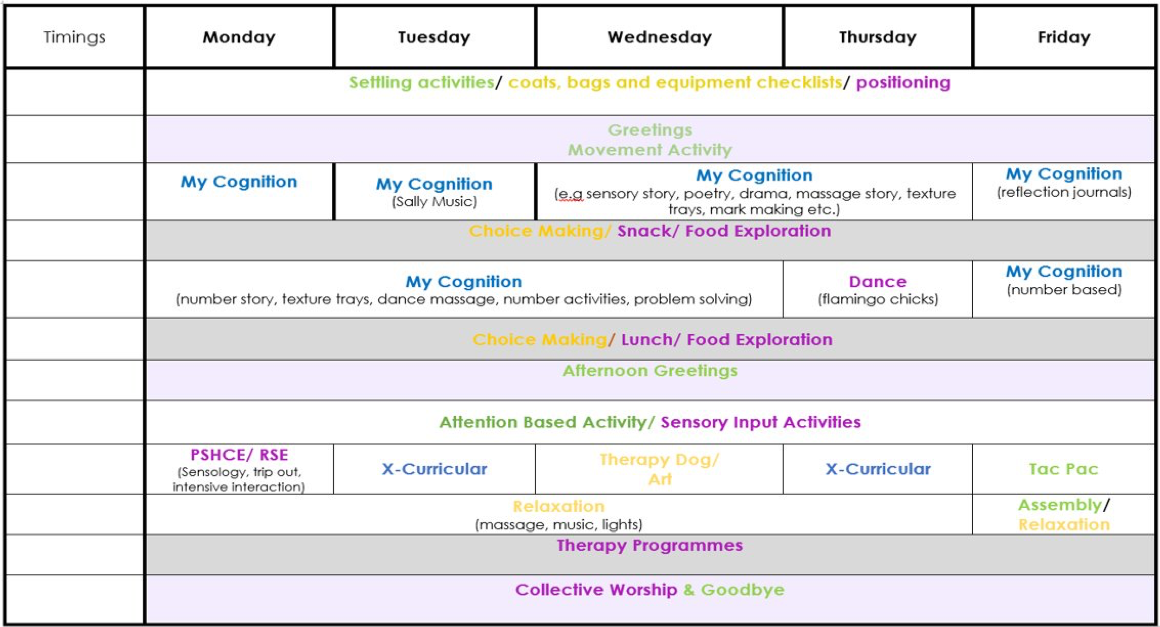 Curriculum Enrichment
Our sensory curriculum offers a variety of opportunities for students to take part in a number of enrichment activities. These are designed to enhance the curriculum offer and support students to access a range of multisensory experiences.
Examples of enrichment activities on offer for our sensory learners include the use of our school hydrotherapy pool, soft play, Pets-as-Therapy dog visits, specialised music and dance sessions.
These experiences not only enhance student's curriculum experiences but also encourage them to develop their confidence, interaction, curiosity and engagement but also promote the exploration and enjoyment of the wider community environment.
Equality in our Sensory Curriculum
All students, regardless of their learning needs or profile have equal access to a broad and balanced curriculum to equip them with the skills they need to succeed.
We ensure that this is embedded throughout the curriculum by:
Ensuring the curriculum is structured in a way that promotes equality of access for all groups of learners and best prepares them for their next stage.
Using teaching resources that reflect the diversity of the school community and wider society, including race, religion and gender.
Providing a variety of opportunities for pupils to celebrate their own culture and learn about the culture of others.
Involving parents and carers in the curriculum and encouraging them to be active participants in their child's education.
Celebrating differences and promoting attitudes and values that challenge prejudice and discriminatory behaviour.
Using teaching strategies that are personalised and inclusive of the learning needs of individual pupils.