Ofsted Information
The school is very proud of the Quality of Education it offers and has been judged as outstanding in our last five Ofsted inspections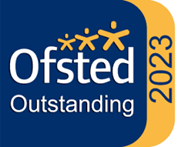 Highlights from the latest inspection in June 2023 include:
'The headteacher and her team have worked relentlessly over the last few years to develop an ambitious curriculum that is focused on pupils' wide-ranging needs. There is no ceiling to what they believe pupils can achieve.'
'In classrooms, there is a positive energy, where pupils enjoy learning. This was evident through the laughter and happiness the lead inspector saw between staff and pupils. Pupils take an interest in what they learn.'
'This is such a happy school where staff are focused on 'equipping learners for life'. They care deeply about their pupils, all of whom have complex needs and barriers to learning. Staff understand pupils' individual needs, strengths, talents and interests. They know what pupils need and when. As a result, pupils make exceptional progress in all areas of their education. Ultimately, they are prepared well for what the future holds.'
'Pond Meadow is a great school. I am really glad I chose it for my child. The staff are wonderful and are experts at working with children with special needs. The children are given such a lovely range of activities to take part in.' This was the view of one parent and carer that echoed the views of so many.
'Vitally important to the life chances of pupils is the curriculum. Over the last few years, it has improved rapidly. Leaders, staff and parents are seeing the very positive difference the revamped curriculum is having on pupils' development.'
'Trustees have an infectious passion. They are committed to making sure Pond Meadow pupils get a good deal. They know the school inside out. They carefully balance holding leaders to account with providing lots of support, something which ensures the highest standards for all.'
The full June 2023 report can be found here:
Pond Meadow Academy Trust Ofsted Report (June 2023)
Previous reports can be found here and on the Ofsted website:
Pond Meadow Academy Trust Ofsted Report (November 2017)
See Ofsted report for Pond Meadow Academy Trust (post November 2014)See Ofsted reports for Pond Meadow School (pre November 2014)