Upper School Sensory Curriculum
In the upper school, the sensory curriculum framework is structured to promote the engagement, interaction and multi-sensory needs of all students.
The curriculum design allows each student to follow their own unique pathway through a variety of modules, accessing specialist strategies which are personalised for the individual.
The sensory curriculum follows a thematic approach and is based on the four areas of the Preparing for Adulthood (PfA) outcomes; Employment, Independent Living, Friends, Relationships and Community and Good Health. There are five curriculum maps; Independence, My Communication, My thinking and Cognition, Physical and Sensory, Social and Emotional and these are linked to Pond Meadow's core areas of learning. The curriculum encompasses a variety of specialist strategies such as TacPac, Sensology and Dance Massage​ which are tailored to maximise the engagement, interaction, curiosity and enjoyment of each student.
PSHCE and RSHE topics are based on the PSHE Association SEND Curriculum which has been developed for the Department for Education (DfE). These are taught in discreet sessions as well as continuously embedded 'in the moment' throughout the school day to ensure that students have regular opportunities to relate this teaching to relevant aspects of their everyday lives and routines. All students following the sensory curriculum have an individualised Engagement Profile which identifies their learning and engagement presentation. This allows for a truly personalised curriculum pathway which is individually assessed against the Quest for Learning framework and EHCP and IEP outcomes.
Example Weekly Timetable: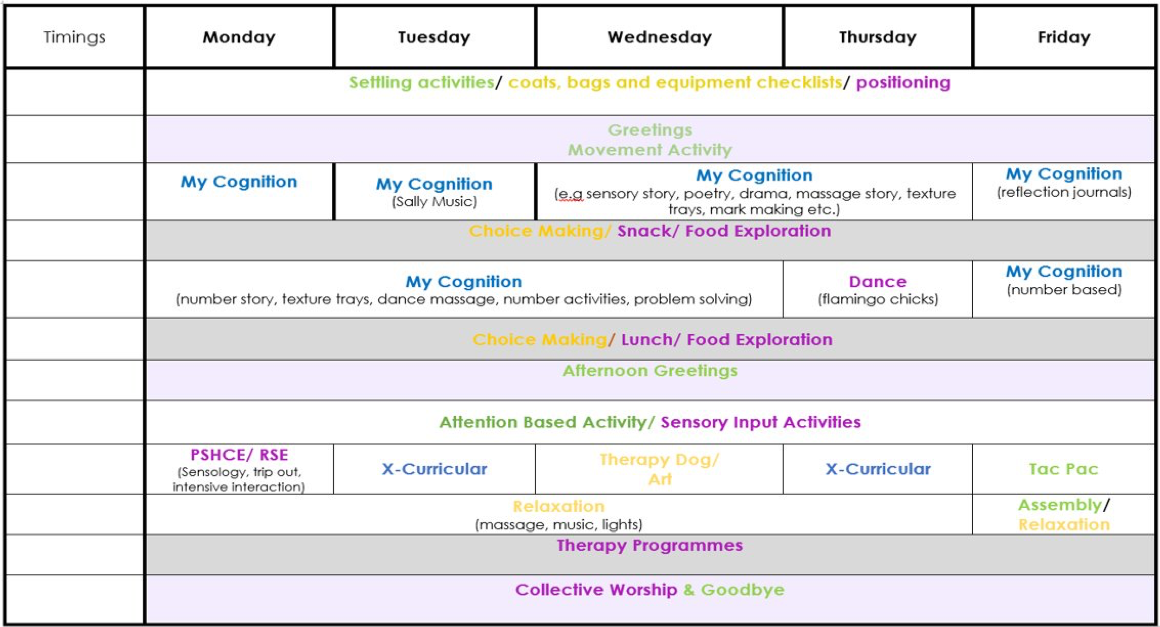 Curriculum Enrichment:
The upper school sensory curriculum offers a variety of opportunities for students to take part in a number of enrichment activities both on and offsite. These are designed to enhance the curriculum offer and support students to access a range of multisensory experiences which link to curriculum modules and PfA outcomes. Examples of this would be visits from the Pets as Therapy (PAT) dog to enable students to make direct links to the 'Pets' module and offsite visits to the Stoke Park sensory garden to promote a multisensory experience of the 'Horticulture' module.
These experiences not only enhance student's curriculum experiences but also encourage them to develop their confidence, interaction, curiosity and engagement but also promote the exploration and enjoyment of the wider community environment.