Post-16
Post 16 at Pond Meadow
Welcome to Post-16! We offer a vocational curriculum for students aged 16-19 to create meaningful learning opportunities for life beyond Pond Meadow. We aim for our students to be as independent as possible to support them to reach their full potential.
We teach functional English, Maths and ICT. PSHCE is delivered weekly covering important topics such as 'E-Safety' and 'My Future'. The preparing for adulthood outcomes are embedded in the KS5 curriculum;
Community inclusion
Employment
Independent living
Good health
Students will have the opportunity to complete ASDAN Personal Progress Accreditation and some may complete NOCN Entry Level Awards.
Students will take part in volunteering and work experience placements suited to their individual interests. Previous placements include Guildford Children's Centre, the National Trust and Surrey Wildlife Trust. We are supported by Enterprise M3 to engage with activities linked to careers guidance. Sport and leisure activities are a very important part of our timetable to promote physical fitness and mental wellbeing. Activities include companion cycling, orienteering and accessible cricket. Local college links support students transitioning to new placements in year 14.
Life Beyond Pond Meadow
We are very proud of our students who have moved onto their new destinations. We love to hear from our alumni so please get in touch to tell us what you have been doing!
Student destinations after Pond Meadow include;
The Woodlands Centre at Merrist Wood College
Supported Learning at Guildford College
Treloar's College
Social care placements
Shelby's Story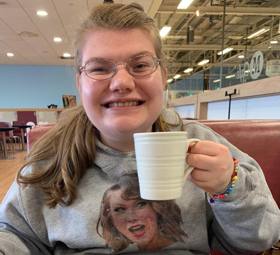 Shelby joined Pond Meadow when she was 7 years old and left the school in July 2020 aged 19 to join the Woodlands Centre at Merrist Wood College.
Shelby's favourite memories of Pond Meadow are cooking yummy lunches, music lessons and free time "singing along to Taylor Swift songs with friends".
Shelby's Mum is very proud of how well Shelby has settled in at college and the progress she continues to make. Well done Shelby!
If you have any questions regarding Post-16 at Pond Meadow please contact Nicole Mills, Post- 16 and Careers Leader.