Primary
Primary Curriculum at Pond Meadow (Key Stages 1 and 2)
The primary curriculum (Key Stages 1 and 2) at Pond Meadow has been developed to give opportunities for all our learners to begin to gain skills in line with our aspirations and enjoy their learning through a rich, progressive curriculum.
It builds on the foundations of the Early Years curriculum, enabling a smooth transition into Key Stage 1. Pupils are well-prepared through the Key Stage 1 curriculum for the Key Stage 2 curriculum. Careful thought is given to creating opportunites across the primary curriculum for pupils to develop their learning and begin to generalise skills. Within Key Stage 1 and 2 there are pathways based on a child's EHCP tailored to the needs of pre-formal, semi-Formal and formal learners.
Curriculum for Pre-formal Learners (Sensory Curriculum)
The Sensory Curriculum is taught in 2 sensory classes in Key Stages 1 & 2, Robins and Lavender. Children follow a thematic approach with adapted topics based on the KS1/2 National Curriculum. These are the same topics as the rest of the school. The curriculum ensures a wide range of learning experiences, using progressive and specialist approaches for teaching. These include TacPac, Intensive Interaction, Sensology and attention work. Each class has a topic per half term and there are 'Curriculum Maps' for each core area as well as RSE, to ensure a broad and balanced curriculum.
Students medical and physical needs are supported throughout the day through the use of specialist equipment, physiotherapy plans and support from therapists and medical professionals such as the school nursing team.
Example weekly timetable: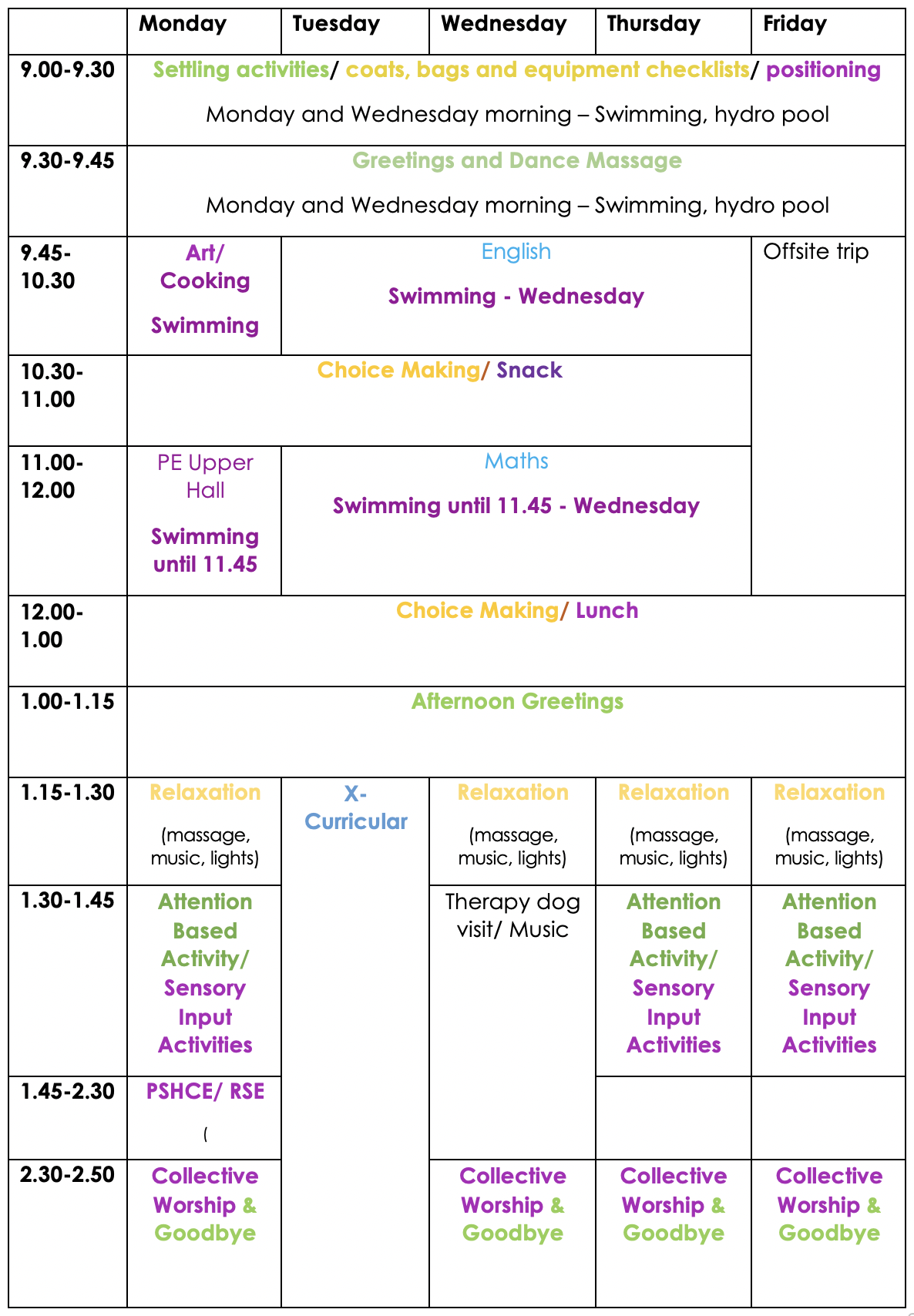 Enrichment
There are a range of enrichment activities on offer for these students such as use of the hydrotherapy pool, soft play, Pets-as-Therapy dog visits, specialised music and dance sessions and other one-off specialist sessions. Off site visits also form part of the curriculum. Key Stage 1 access local walks and Elm Farm. Key Stage 2 have opportunities to learn through visits to Woking Sensory Room and Stoke Park sensory garden.